Below is the online edition of In the Beginning: Compelling Evidence for Creation and the Flood, by Dr. Walt Brown. Copyright © Center for Scientific Creation. All rights reserved.

Click here to order the hardbound 8th edition (2008) and other materials.
Water on Mars 
Discoveries of water on Mars are now so common that the subject has become the butt of jokes among planetary scientists: "Congratulations—you've discovered water on Mars for the 1,000th time!101
With so much evidence that water has flowed on Mars, some astronomers have imagined conditions that might have permitted Mars to have a warm, wet climate and liquid water billions of years ago. These speculations have now been thoroughly beaten down,102 but one explanation fits all the available evidence.
Mars is cold, averaging at least -80°F (112°F below freezing).  One might think that any liquid water on Mars would quickly freeze, especially at Mars' low atmospheric pressures.103 However, comparisons of detailed photographs show that water has flowed on Mars within the last few yearsu—and today, during Martian summers, saltwater appears to flow out of equatorial facing slopes!104  How could that be?105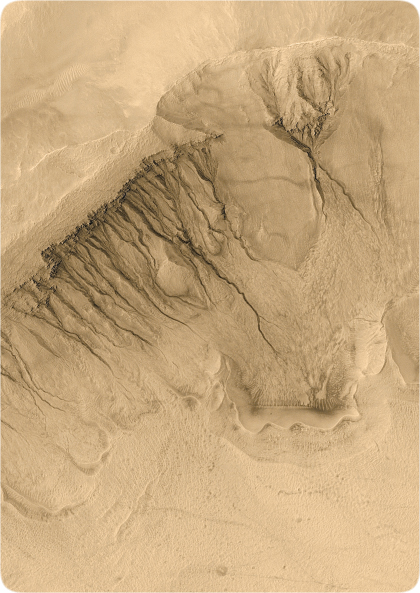 Figure 181: Erosion Channels on Mars. These channels frequently originate in scooped-out regions, called amphitheaters, high on a crater wall. On Earth, where water falls as rain, erosion channels begin with narrow tributaries that merge with larger tributaries and, finally, "rivers." Could impacts of comets or icy asteroids have formed these craters, gouged out amphitheaters, and melted the ice—each within seconds? Mars, whose average equatorial temperature is colder than the average temperature in Antarctica, would need a heating source, such as impacts, to produce liquid water.
Did the liquid water originally come from below Mars' surface or above? Most believe that subsurface water on Mars migrated upward for hundreds of miles to the surface. However, that would not carve erosion gullies on parts of crater walls, as shown in Figure 181, or on a Martian crater's central peak. Besides, the water would freeze a mile or two below the surface.106 Even volcanic eruptions on Mars would not melt water fast enough to release the estimated 10–1,000 million cubic meters of water per second needed to cut each stream bed.107 (This exceeds the combined flow rate of all of Earth's rivers that enter an ocean.)
The salty water came from above. Soon after Earth's global flood, the radiometer effect spiraled asteroids out to the asteroid belt, just beyond Mars. This gave asteroids frequent opportunities to collide with Mars. Comets also impacted Mars. When an icy impact occurred, the impactor's kinetic energy became heat energy, melted some ice, gouged out a crater, and kicked up into Mars' thin atmosphere large amounts of debris mixed with water (liquid, ice crystals, and vapor). Then, the dirt and salt-water mixture settled back to the surface in vast layers of thin sheets—strata—especially around the crater.
Mars has water-ice at its poles.108 At various latitudes, impact craters sometimes expose thin ice layers a foot or so beneath the surface.109 Mars' stream beds usually originate on parts of crater walls instead of in ever smaller tributaries as on Earth.110 Martian drainage channels and layered strata are found at almost 200 isolated locations.111 Most gullies are on crater slopes at high latitudes112—extremely cold slopes that receive little sunlight. One set of erosion gullies is on the central peak of an impact crater.113
Icy asteroids and comets bombarding Mars released liquid water, which often pooled inside craters or flowed downhill and eroded the planet's surface.114 (Most liquid water soaked into the soil and froze.) Each impact was like the bursting of a large dam here on Earth. Brief periods of intense, hot rain and localized flash floods followed.115 These Martian hydrodynamic cycles quickly "ran out of steam," because Mars receives relatively little heat from the Sun. While the consequences were large for Mars, the total water was small by Earth's standards—about twice the water in Lake Michigan.
Today, when meteorites strike icy soil on Mars, some of that ice melts. Liquid water then flows down the crater wall, leaving the telltale gullies that have shocked the scientific community.u
During Martian summers, rising equatorial and mid-latitude temperatures, although below 32°F (0°C), can melt frozen saltwater. Even today, water appears to be draining down 25°–40° slopes in streams that are up to 1,800 feet long and 1–15 feet wide! (Those dark drainage streaks slowly disappear in the fall and winter, only to begin growing the next spring.) Therefore, that liquid must contain dissolved salts that lower the water's freezing point. Other clues have narrowed the type of dissolved salts to chlorides (sodium, magnesium, or calcium).

PREDICTION 43:   Most sediments taken from layered strata on Mars and returned to Earth will show that they were deposited through Mars' atmosphere, not through water. (Under a microscope, water deposited grains have nicks and gouges, showing that they received many blows as they tumbled along stream bottoms. Sediments deposited through an atmosphere receive few nicks.)

PREDICTION 44:   As has been discovered on the Moon and apparently on Mercury, frost, rich in heavy hydrogen, will be found within asteroids and in permanently shadowed craters on Mars. [See pages 296 and 305.]